Let us serve your guests cooked to order Vienna Beef® hotdogs, polish and brats on a freshly steamed bun with a side order of chips, freshly popped popcorn and an ice cold soda.

Condiments include Ketchup, Mustard, Sweet Relish, Onion, Sport Pepper & Celery Salt.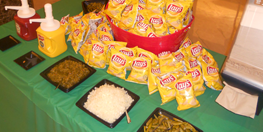 menu items
Vienna Beef® HotDogs*
Polish
Brats
Individualaly Packaged Name-Brand Chips
Chilled Name-Brand Single Can Sodas
Freshly Made Popcorn


Our old fashioned popcorn carts pop up delicious fresh tasting popcorn that everyone enjoys.
* Veggie dogs available upon request